Leadership in a crisis-The 2012 Open
I use the word crisis in this post even though the opportunity for harm or loss of life was not nearly as great as several other events that hit the news recently.  If you are any kind of sports fan you had to be aware of the unusual and sad/happy ending to the Open Championship yesterday in England when Ernie Els won the tournament as a result of his solid play on the last day and the 11th hour collapse of Adam Scott on the last 4 holes.  While I was reading the paper again this morning I found a number of interesting parallels between the conduct and behavior of those present and how leaders might behave, should behave in any kind of business situation where something unplanned and unfortunate occurs.  Let's look at the players involved and give a rundown of each.
Here are the key players involved:
Ernie Els-Winner of the 2012 Open
Adam Scott-the 2nd place finisher
Brandt Snedeker-finished in a tie for 3rd
Tiger Woods-finished in a tie for 3rd
We might mention a few others in the course of this post, but these four gentlemen garner the bulk of our attention in this event.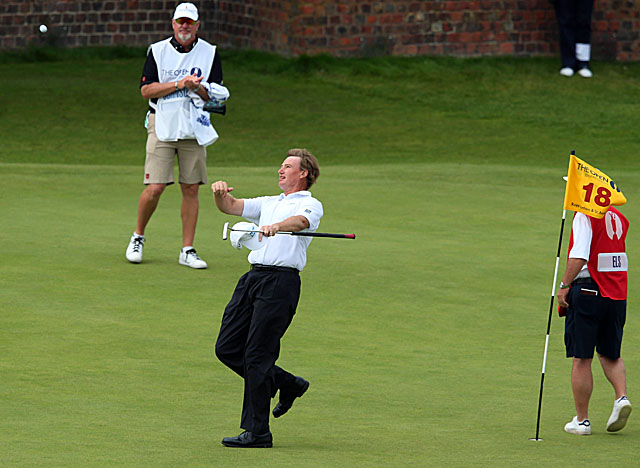 Ernie Els has been a fan favorite for many years and won the Open championship almost 10 years ago.  Many in the crowd had no idea what was about to happen when Els finished his round, but while watching with my son I remarked that "Els may have just won this thing" when he made his birdie on 18 putting him one stroke behind the leader at the time.  I knew the Adam Scott wagon was shaky at the time, but I had no idea he was about to go off the cliff.  Els' behavior and demeanor throughout this entire scenario was exemplary and part of that comes from the fact that he has personally been in the same place Adam Scott was in a previous tournament.  This comment kind of says it all from a leadership perspective:
The celebration was muted, unlike his other three majors.
"I'm a little numb at the moment," said Els, who was on the practice green behind the clubhouse when he won. "First of all, I feel for Adam Scott. He's a great friend of mine. Obviously, we both wanted to win very badly. But you know, that's the nature of the beast. That's why we're out here. You win, you lose.
"It was my time for some reason."
Even in the closing ceremony, holding that precious claret jug for the second time, his thoughts immediately went to Scott.
"Sorry," he said, looking at the 32-year-old Australian, whose final bogey gave him a 75. "You're a great player, a great friend of mine. I feel very fortunate. You're going to win many of these."
(courtesy of CBSSports.com)
This type of humble acceptance with little gloating is a great example of leadership.  Humble leaders are accepted by both their followers and those who do not know them and this type of mature acceptance is a hallmark of strong, experienced leadership.
Adam Scott also exhibited some quality traits of leadership, even on such a challenging day:
Scott still had a chance to force extra holes with a strong shot into 7 feet on the 18th for par. The putt stayed left the entire way. His chin buckled, and it looked as if he might start crying on the green. He composed himself and mouthed one word: "Wow."
"I had it in my hands with four to go," Scott said. "I managed to hit a poor shot on each of the closing four holes. Look, I played so beautifully for most of the week. I shouldn't let this bring me down."
(courtesy of CBSSports.com)
The collegial behavior and sportsmanship of Brandt Snedeker and Tiger Woods came through with flying colors at the end of the tournament.  Words cannot fully express the behavior of these gentlemen, but I saw this handshake and greeting take place and it spoke volumes to me:
These snapshots and glimpses bring the value and behavior of leadership better into focus.  Challenge and tragedy occur daily on the links and in the back office.  How we deal with challenge says a lot about us as human beings and also as leaders.
Here are a few key points to remember:
All of us will fail; how we deal with failure says a lot about our character
Being the recipient of someone else's failure can be a humbling experience
You cannot fully understand and appreciate success without tasting failure first
Humility is a virtue that shines brightly when leaders are in challenging situations
A smile is always a better starting point than a snarl
Leadership in a crisis is just one more example of Lagniappe Leadership, giving or showing that little something extra
How have you benefitted from crises in your life?  Do you accept success with a humble approach, or do you adopt a "to the victor comes the spoils" attitude?
How you behave in both good and bad circumstances will tell you and those around you about who you are as a leader.
I would suggest you take the Ernie Els approach.