Losing a key leader may not be fatal: The James Franklin story
For those of you who cannot get enough of my comparisons between real life and collegiate sports, this is another story you might enjoy.  I find so many parallels between what happens on the gridiron, the court or the diamond and what goes on in the office, the boardroom or the factory floor.  Today's post will be just one more in that series of parallels.
If you live in the Nashville area or in Pennsylvania you will be aware that Penn State University has just hired James Franklin as their new head football coach.  Coach Franklin grew up in Pennsylvania and also attended college in that state.  Considering the depths of despair that PSU was in a few years ago with the Jerry Sandusky-Joe Paterno scandal, things have calmed down there quite a bit.
The real story here goes back to before the hiring of James Franklin at Vanderbilt.  Vandy football was a national powerhouse in the first half of the 20th century.  Things began to sour in the 1960's and really bottomed out in the late 1980's and 1990's.  Vandy played in bowl games in 1982 and 2008, but winning seasons were few and far between.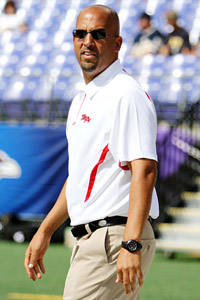 Most Vanderbilt football fans remember the days pre-Franklin when we would sit in our seats and wonder just how Vandy would lose that day.  I can remember many games where Vandy would take the lead only to let defeat and gloom overtake the day.  This kind of thinking diminished and has essentially vanished under the three year transformation brought on by Coach Franklin and his staff.  Obviously, his players also made a difference in this.
Coach Franklin is now gone.  We wish him well.  When a key leader leaves an organization a gaping hole can exist.  How the organization reacts to that gap and how quickly they move to fill that gap will make all the difference between continued success and a regression back to failure.
Organizations of all types have key leaders.  These key leaders may be in a role of positional power, as described by Bolman and Deal in their book "Reframing Organizations" or they may be in a role of symbolic or political power.  James Franklin had both positional power as well as symbolic and charismatic power.  His ability to motivate others was as good as any I have seen and he was also quite adept to look adversity in the eye and not back down. (just ask Todd Grantham of Georgia about this)
Just how do you plan for this type of exit by a key leader?  There are many ways to do so, so let's discuss a few of them:
Be aware that other organizations have designs to take your key leaders if they are successful.  Every company or organization has a strategy when it comes to talent management.  This strategy will have a balance between talent acquisition and talent development.  You cannot do only one, you must do both.  When the key leader leaves you will have to rely on both.
Talent acquisition relies on your ability to bring in another key leader from a competitor.  Depending upon the season and direction of the organization that may or may not be a good decision.
Talent development relies on your ability to go to the next level down or across in your organization and place another into the vacancy created when your key leader exits.  Without any type of talent development strategy there will be no one remotely close to being ready when this days comes.
Key leaders will always leave. If you are not vulnerable to having your leaders recruited by others then you don't have the right leaders.  You want to be the firm that others try to steal talent from.  You may design great strategies to keep the vast majority of them, but you always want to have some turnover.
Leaders come and leaders go.  Every time one leaves there is a vacuum, a gap, but there is also an opportunity.  Every leader has strengths and weaknesses.  Yes, believe this, every leader has weaknesses.  In fact, some leaders have strengths that are so strong that they become weaknesses (CCL).  Just consider the movie "The Great Santini" when you think about leaders with overwhelming strengths.
Be prepared when you lose that next key leader.
Make sure your talent development system is doing what you need.
Have that short list ready of those you would like to add to your team when the time arises.
This too will pass-be prepared.