Why do I complain so much?
I was more than a little reluctant to make this post, but I felt compelled to air some issues that have really been bothering me in recent weeks.  For those who know me this title may come as a surprise, but when I look in the mirror the self-indictment was too strong to ignore.  So here we are, with me explaining why I complain so much these days.  Hang in there and you may feel the same way too.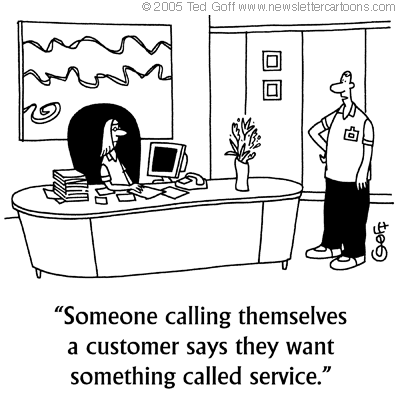 Service and follow through on the part of many organizations has gone by the wayside.  You would think that people would "buckle down" when times get tough, but I have just about had it with the poor service I have experienced on several fronts in a couple of different areas.  Let me expound more on two of them.
My wife and I just refinanced our home (for the last time) and we assumed that using the same company we had our mortgage through would be a time and energy saver.  Boy, were we sure wrong about that.  We began the process in December of last year and we finally closed the loan on March 9 of this year.  It took over 60 days to go through the process and it was a test of patience on my part on more than one occasion.  Just this evening the company called to get my feedback and I felt bad dumping so much on the poor person on the other end of the line.  She did her best to tell me how much things had changed, but I wanted her to know that would not change a thing about my experience.  My intent was to make sure they knew that their process had been flawed and that no one seemed to care much during that part of the process.  Now that everyone one their end will get paid there is wailing and gnashing of teeth in penance.   
A second issue had to do with getting estimates on replacing the windows and adding additional insulation to my home.  We were doing this as part of a TVA energy efficiency program and the process began with a representative coming to my home to conduct a so-called "energy audit."  The audit consisted of him taking a peek in my attic and agreeing with me that my windows needed to be replaced.  He did not take a look at the exterior of the home nor did he look in the crawlspace.  When he finished his assessment he took the time to write up all of my needs on the inside cover of a folder he brought with him.  He neglected to fill out the required paperwork I would need to get the savings I was counting on as part of this process.  A call to the sponsoring organization brought a big apology, but the impression had been made and the impact has been made.
Poor customer service can be a killer.  Customers need to be made to feel wanted and valued and experiences like the two mentioned above are not what you want your customers talking about.
What about you?  Have you experienced poor customer service lately?
If so, what are you doing about it?