Why you should never hire a Cub Fan to run your company
Some of you will read this title and wonder what this post is all about.  I can say without question that I am uniquely qualified to write this since I suffered as a Chicago Cub fan for 50 years.  Being 52 now, your advanced math skills will enable you to understand that I am a "former" Cub fan and not a current or future Cub fan.  But let us move on.
You need to have a little background on the Cubs to know why they are so inept.  The last won a World Series, the championship of Major League Baseball (MLB) in 1908, over 100 years ago.  While I was still drinking the "Cubbie Kool Aid" I used to joke that it was our century.  How wrong I was.  There were several close calls during my lifetime, the 1969 Cubs
  who were flying high and then found a way to lose the pennant to the Mets.  There were the 1984 Cubs with Bill Buckner and there were the 2003 Cubs who were saddled with the famous Steve Bartman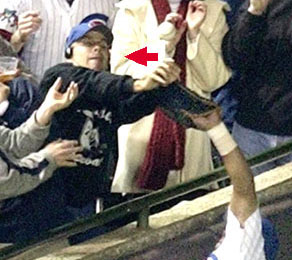 foul ball catch over Moises Alou.  As you can see, the Cubs are a team riddled with failure and if they were a company they would have gone the way of Montgomery Ward, another distant memory from Chicago land.
Here is the main reason why you would never want a Cub fan to run your company.  True Cub fans don't care about results.  Winning does not matter and they really don't care that their team does not win.  That is total anathema to running a firm.  If you know me you will see I am not a cutthroat guy, but you have to have results to run a firm and Cub fans, True Cub fans do not care about results.
Here is one more example of why Cub fans don't care about results.  When teams lose their fans don't buy tickets and the ownership is forced to make changes.  The Cubs are on their way to another home attendance record this year and they set a one day attendance record yesterday with over 42 thousand fans attending a game in Wrigley Field versus the St. Louis Cardinals.  Who would want a  leader who pays for mediocrity?  Not me, and neither should you.
I suspect a few Cub fans will think I am a jerk; I have heard that before, and will hear it again.  Bottom line is, your team needs to win more than once every one hundred years.  If they don't, then find a new team.
XCX92BV77TXR