Winning isn't everything, or is it?
Winning; it is very important and it makes a huge impact in everything that we do.  Whether we talk about sports, work, school, even church, we hear about winning.  Winning is determined by measuring some outcome when two or more are involved and it manifests itself in so many ways in our lives.  During this time of year I think first of college basketball when it comes to winning.  At this moment there are 16 men's teams still alive in the NCAA Division 1 Basketball Tournament and that number will reduce to 4, the Final Four, by the end of the evening on Sunday.  Stories will be crafted on the hardwood during the next four days and in the weekend after when the Final Four become two and then one.
There are so many stories and so much involved that I sometimes wonder if we have things in the proper perspective.  The NCAA has a commercial where they accurately depict how the vast majority of college athletes will be going pro in something other than their sport.  That is so true, but what most of us get caught up in is the select few who make the "Big Bucks" by being drafted into some type of professional league.  Even fewer are successful and have longevity in professional basketball.
The point is this; so many schools and so many leaders or coaches get so caught up in the winning that they forget the process involved, the rules, the guidelines.  One such case reared its ugly head this week with the firing of Bruce Pearl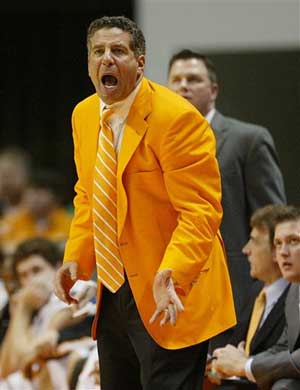 by the University of Tennessee.  Coach Pearl was a likeable guy, a real showman and someone who breathed life into a dead program in Knoxville.  He was able to demonstrate success through winning.  His teams reached the NCAA tournament six consecutive years, culminating with a trip to the Elite Eight last season.  All of this is now history and Coach Pearl is now unemployed because the focus was so much on winning that the aspects of integrity and following the rules somehow got left on the sideline when the going got tough.  Rules were ignored and then the topper of the whole situation was the fact that Coach Pearl lied to NCAA investigators when he was questioned about his methods.  No one ever questioned his success, his winning, but the downfall of this part of his career was the methods, the lack of integrity, the inability to play by the rules.
My intent is not to judge Bruce Pearl. 
Time and others will do that.  My point is this:  at what point is winning so important that we will ignore our core principles, our integrity, our moral fiber in order to win?  Don't tell me that we all don't think about this.  It comes up often for most of us as we decide how we will conduct our lives.  We live in a time when winning has become the focus and integrity and morals have taken a back seat.  I can cite many more examples, but today we will just pause and reflect on the one pearl of wisdom that can be gleaned from this situation.
Winning is important-it always will be.
Integrity and morals are more important-they have to be.
What is your breaking point?  What is your River Styx; the point of no return?  What would it take for you to make that big compromise that allows you to win regardless of the cost?
If you are human you fully understand what I am talking about.
if you are human, you might be saying that you would never compromise.  I hope you are right, but I doubt it.
What do you see as the answer?  What price winning if we give up integrity and trust?
I beg for your answer.